Welcome to Scotland from the Roadside
Fàilte gu Alba à Taobh an Rathaid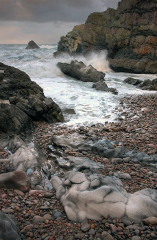 Stormy Waves Crashing on to a Cold Beach by Andy MacD
(winner of the Photo of the Month, December 2012)
Scotland: a land of mountainsand glens; lochsand rivers. A land where there might not be, as some say, a castleon every hill, but there is a story round every corner: from bloody battleswith invaders or sometimes neighbours; mythical creatures haunting the hills and the depths; to the struggle to tame the land. Scotland is a land that evokes many emotions. The thoughts of the travellers as they looks upon the land before him in awe and the feelings of people from distant shores that can trace their families back to this land; all of this goes in to making Scotland the place that many want to see; to experience; to be part of.
With all this in mind we set off on a journey, passing many historic landmarks along the way. From the old towns of Edinburghand Stirling, with their castles perched on rocks; through the Trossachs and the Borders that owe much to the romance of Sir Walter Scott's pen; on to the remoteness of Argyll, where the early settlers from Ireland, known to the Romans as the Scotti, ultimately gave Scotland its name; and into the Highlands, which to many defines Scotland: the Highlanders with their clans living in their glens, with a culture and language so different to their lowland cousins!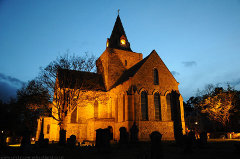 Dornoch Cathedral at Night by Ken
(Winner of the Photo of the Year, 2012)
There is much more still to be seen as we follow in the footsteps of earlier travellers, names that have become legends: William Wallace; Robert the Bruce; Rob Roy MacGregor; Bonnie Prince Charlie. Following the roads through towns and villages; to visit and walk round the buildings, the castles and churches, which have played their part in the history of this nation; to look upon monuments and memorials and wonder at the feats accomplished, the battles fought, the lives lived.
The journey doesn't end on the mainland, which gives us the opportunity to sail across the seas to islands with their views of distant, empty horizons: the Inner and Outer Hebrides to the west; the Orkneys and Shetlands in the north. These islands have seen the Gaels and the Norse fighting over them before they ultimately became part of the Scottish kingdom; their place names serve as a reminder of their mixed cultures.
Finally, as the sun sets as the end of another day, we can raise a glass of uisge beathaand bid slàinte mhath to friends and fellow travellers. Then, once the sun has disappeared below the horizon, we look forward to the days ahead and the prospect of further journeys with more sights to see; tales to tell; legends to discover.
Scotland from the roadside; the hillside; the loch side; the boat side… join us on the journeyround our very own field of dreams!


See our bookshopin association with amazon.co.uk!