Northern Highlands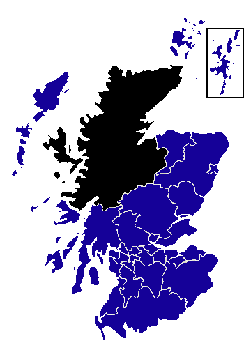 From Inverness the Kessock Bridge carries the A9, at the point it meets the A82, onto the Black Isle, crossing the narrow gap that separates the Beauly and Moray Firths. While the A9 continues north across the Black Isle, to cross the Cromarty Firth, the A835 and A832 head roughly west, through Easter Ross, with the latter road joining up again with the former.
The A835 then heads northwest, through Wester Ross to Ullapool, with the A832 branching off again. Branching off the A832 itself, the A890 heads southwest, to the Lochalsh area, and the A896 loops round to join this road near the tip of Loch Carron. The A832 loops round to rejoin the A835 once more. Note that many of the roads in Wester Ross are still single track, although some of these are being upgraded.
Meanwhile the A9, after crossing the Cromarty Firth, turns northeast and then north again to cross the Dornoch Firth into Sutherland. The A9 then follows the eastern coast of Sutherland before turning north through Caithness to Thurso. At the point where the A9 turns north the A99 continues northeast along the coast to Wick.


See our bookshop in association with amazon.co.uk!

Advert