Photo of the Month
January 2012
Voting has ended for January's Photo of the Month... the winner is Edinburgh Snow by celticlegend/Willie: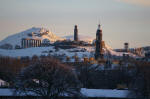 Machrihanish Beach
(Linda)

Royal Palace, Stirling Castle
(Bruce)

Road to Nowhere!
(John)

Snowclad Ochils
(OchilYokil)

Port Seton
(vshelley)
Note that the copyright for all the photos shown above belong to the photographers!


See our bookshop in association with amazon.co.uk!