Advert
Aberdeen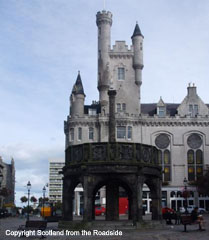 The Mercat Cross
(See the galleries for more photos of Aberdeen!)
Aberdeen is located in the northeast of Scotland, sitting on the North Sea coast between the the Rivers Don and Dee. What is today Scotland's 3rd largest city grew out of two separate settlements, each of which was located at the mouths of the two rivers. Old Aberdeen is the oldest part of the city and is situated to the south of the Don; the original settlement here was known as Aberdon, the mouth of the Don. New Aberdeen was created as a burgh by David I around 1130; this developed from a fishing village that was located to the north of the mouth of the River Dee, to the south of Aberdon.
Old Aberdeen developed around the areas of Pittodrie and Seaton in the 12th century; St. Machar's Cathedral dates from around this time, although the origins are said to date back to the 6th century. King's College was founded in 1495 by William Elphinstone, the Bishop of Aberdeen; this was the first university in Aberdeen and the third in Scotland. The college buildings are located around the High Street and are dominated by the chapel; the chapel itself was founded in 1500 and consecrated in 1509.
Marischal College was founded in 1593 by George Keith, the 5th Earl Marischal; this was set up in New Aberdeen as an alternative to King's College, but the two merged in 1860 to become the University of Aberdeen. The Marischal College building in Broad Street is the second largest granite building in the world; it was built between 1837 and 1844, replacing older buildings, and was extended between 1893 and 1905.
Up until the end of the 19th century, Old and New Aberdeen was two separate burghs; they, along with the separate burgh of Torry that sits to the south of the River Dee, were incorporated in 1891. As Aberdeen has grown over the years, smaller settlements in the area have become part of the city.


See our bookshop in association with amazon.co.uk!