Dundee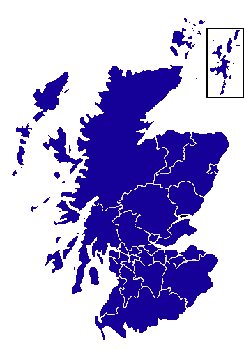 Lying between the Firth of Tay to the south and Sidlaw Hills to the north, Scotland's fourth largest city can be approached over the Tay Road Bridge, following the A92 from Dunfermline through Central Fife, or by following the A90 from Perth.
Dundee became known for the three Js:
Jute - a fibre woven into a cheap fabric.

Jam - manufacture of marmalade was pioneered here.

Journalism - publishing firm DC Thomson are based here.
The Discovery, Captain Scott's polar research ship, was built here and is now docked at the old ferry terminal. HMS Unicorn was also built here and is the oldest British ship that is still afloat.
In 1309 Robert the Bruce was proclaimed king in Dundee. William Wallace supposedly attended school here - and it is said this is where he first met Andrew de Moray in 1297. Winston Churchill was the Liberal MP for the city from 1908-22.
The town centre was re-planned twice in the 19th century: in 1824 by William Burn; and in the 1870s by William Mackison.
The Old Steeple dates from 1442 and is the oldest building in the city. It was set alight by the English in 1548 and used as a prison form 1588. During a siege in 1651, General Lumsden and his men held out for 3 days against General Monck, until the latter's men set light to damp straw around the base. 800 men plus 200 women and children were executed - Lumsden's head was displayed on the roof of the steeple.
The bell of the steeple is supposed to have cracked when the Old Pretender visited in 1715.
The cathedral, with its 64m/210ft spire, stands on the site where the castle once stood.
There is a statue of Admiral Duncan of Camperdown in the High Street.
Also in the High Street, near the steps leading to St. Paul's cathedral, is a plaque commemorating the spot where William Wallace supposedly stabbed a man named Selbie. The latter had ridiculed Wallace and after this incident William ran to the nearest inn where he escaped capture by being dressed in women's clothes and sitting at a spinning wheel. The stone seat is now in the McManus Museum.
Dundee Law is the site of an Iron Age fort and on top is the city's war memorial. It is 174m (571ft) and is the remains of a volcanic plug.